Using a Humanistic Approach to Reach Your Business Objectives
MPO stands for Managing Performance in Organizations. For over 10 years now, we have been honing our scientific expertise which centers on people's workplace behaviour. Our psychometric data helps lead companies and managers towards both human triumphs and business victories.
Four Different Reports for Smarter Talent Management
Delivered via our MPO talent management platform, the data from four different reports helps you better grasp what you need to know about a person's natural behavior, needs, talents, communication style and motivational profile – all so you can choose who is the best fit for the job and help your staff reach their full potential!
To understand people's innate behaviors and needs in order to help them be as successful as possible in their work roles
What it measures The seven core traits, their interaction, job satisfaction and job compatibility.
To get a better picture of people's learning and information processing profiles in order to ensure effective knowledge acquisition and job integration.
What it measures Provides you with a cognitive aptitude index, plus measures 3 types of reasoning abilities and job compatibility.
To recognize a people's innate talents in order to better develop individual and team potential.
What it measures
6 aptitude categories, 46 different talents, a competency profile and job compatibility.
To gain an understanding of people's communication styles in order to work in better harmony with each other.
What it measures
Each person's communication style (4 colours + 16 nuances), team profiles and people's interactive dynamic with others.
RightMatch is an analytical tool that rapidly compares candidates to a Target Job Profile.
Looking at human personality, people's cognitive ability and their innate talent from a statistical data-driven standpoint, RightMatch provides reliable information to facilitate your decision-making when it comes to hiring, moving and promoting people.
RightMatch can also benefit onboarding endeavors. Plan ahead to get new team members the right support as they learn the ropes.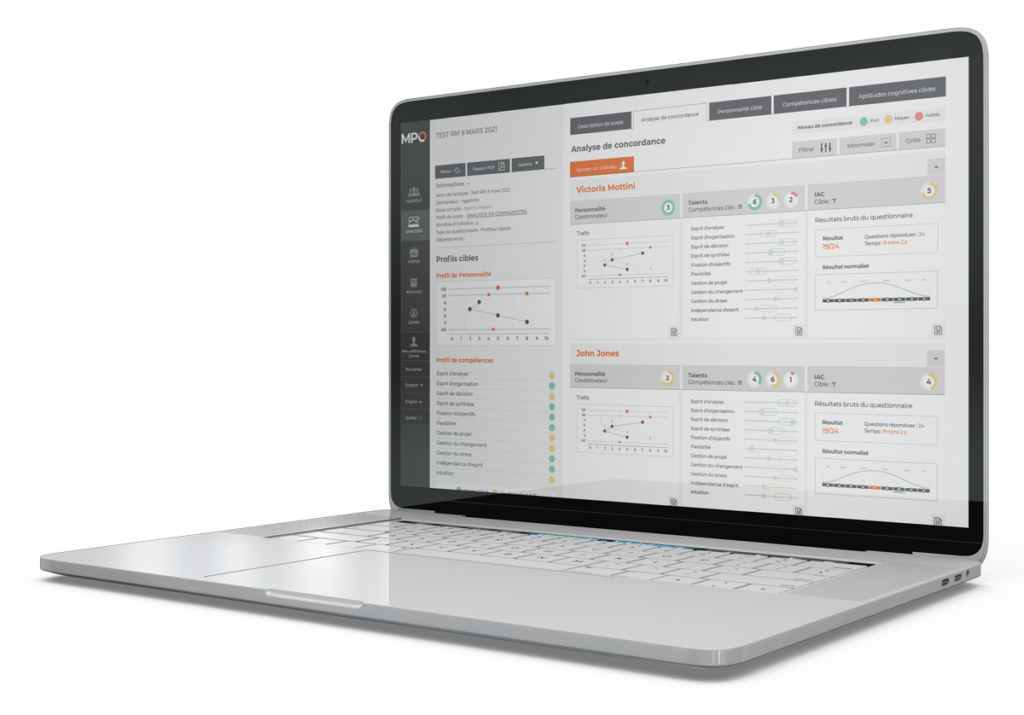 Better Talent Management Results with MPO
MPO supports you in your recruitment, people management and staff development endeavors using a scientifically validated approach.
Recruiting – Managing – Developing
Recruiting
Managing
Developing
Recruiting
Hire the Right People!
Pick better candidates based on their potential, their work needs and their compatibility with your current staff.
MPO enhances your talent acquisition process and guides you through all the typical personnel management steps, from hiring through to management coaching.
Our psychometric data helps you better understand the core dimensions of personality as they pertain to the work context.
As a Talent Acquisition Professional, MPO helps you:
Reduce staff turnover
Better mobilize people
Build effective teams
Managing
Developing
Learn How to Interpret Data, Use the Platform and Make Better Talent Management Decisions
Every business can potentially deploy MPO independently within the organization. We offer full training for your organization's key MPO resource people.
All Your Talent Management Needs on a Single Platform
With our 3rd generation MPO platform, you're covered for all your key people management operations. You can view results and conduct numerous analyses on both individuals and teams. With more efficient talent management and decision-making capabilities, you can focus on reaching your organizational performance goals.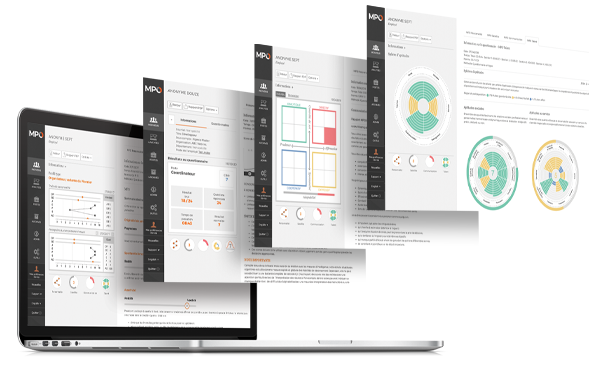 RELY ON SCIENCE TO
BACK YOUR DECISIONS
DEPLOY MPO IN YOUR ORGANIZATION