Sign Up for MPO Workshops: Better Talent Management and Better Decisions
Proper training can open the door to better business performance.
Increase your own awareness of human behaviour and motivation for greater organizational success. Discover key employee traits and make better decisions with a people-centered management approach.
Learn how to interpret psychometric data with great precision and accuracy so you can deploy MPO Solutions directly within your organization.
We encourage key staff members to take our training and become Certified MPO Analysts so they can run MPO independently and start making a difference in the workplace.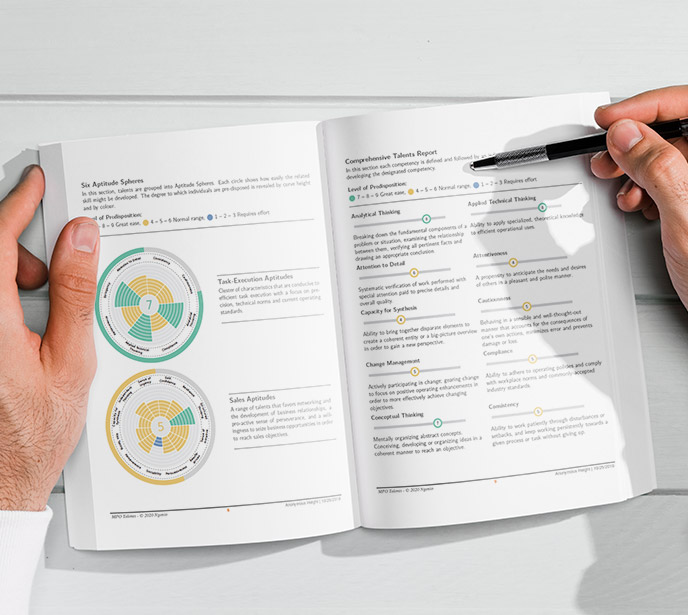 Our MPO seminars are designed for human resources specialists as well as all managerial staff.
Learn how to effectively interpret MPO psychometric data.
This workshop provides participants with an in-depth understanding of people's key traits and motivational needs and the ability to effectively analyze MPO Report data pertaining to job candidates and existing staff.
Upon successfully completing this course, participants become fully Certified MPO Analysts and are licensed to run the MPO platform independently and start making a difference in the workplace.
Workshop Content
Introduction to Psychometric Instruments
Profile Categories
MPO Personality Traits
Factor Interactions (normative and relative aspects)
Employee Perception
Interpreting MPO Graphs
Sharing Reports & Results
Cognitive Aptitude Assessment
Using the MPO Online Platform
DURATION: 2-DAYor 3-DAY WORKSHOP
MPO CommunicationWorkshop
A better understanding of interactive dynamics leads directly to better communication.
Learn how to value and leverage each person's strengths, communication style and leadership profile for greater individual and collective success.
Outcome: Complementary, harmonious and productive teams.
Workshop Content
Innate Interactive Profiles
Leadership Styles
Motivational Profiles & Individual Strengths
Decision-Making
Impact on Others
DURATION: HALF-DAY WORKSHOP
Accurately identify innate talent. Leverage potential. Build competency.
Based on the 46 most fundamental workplace talents, MPO Talent quickly discerns a person's potential so you can focus on behavioral skill development. Psychometric talent data is gleaned from our standard MPO Personality questionnaire.
Outcome: Recognize candidate potential and develop behavioral competencies.
Workshop Content
The Link Between Personality Traits, Competency & Talent
The Six Aptitude Spheres
Establishing Key Job Competencies
Comparing Job Competency Requirements with Talent Profiles
Potential for Skill Development
Building a Skill Development Plan
DURATION: HALF-DAY WORKSHOP
ENQUIRE ABOUT MPO WORKSHOPS
DEPLOY MPO IN YOUR ORGANIZATION NOW