Understand Innate Behaviors and Make Better Decisions
Psychometric data reveals a person's innate behaviors so that you can make more appropriate hiring choices.
Get a better sense of staff and candidate personality traits and motivational profiles. Our psychometric data helps assess a person's suitability for the job itself, the work setting and how they fit with the team.
Make better hiring decisions and gain greater insight into talent management thanks to these unique, technologically advanced, and easy-to-use applications.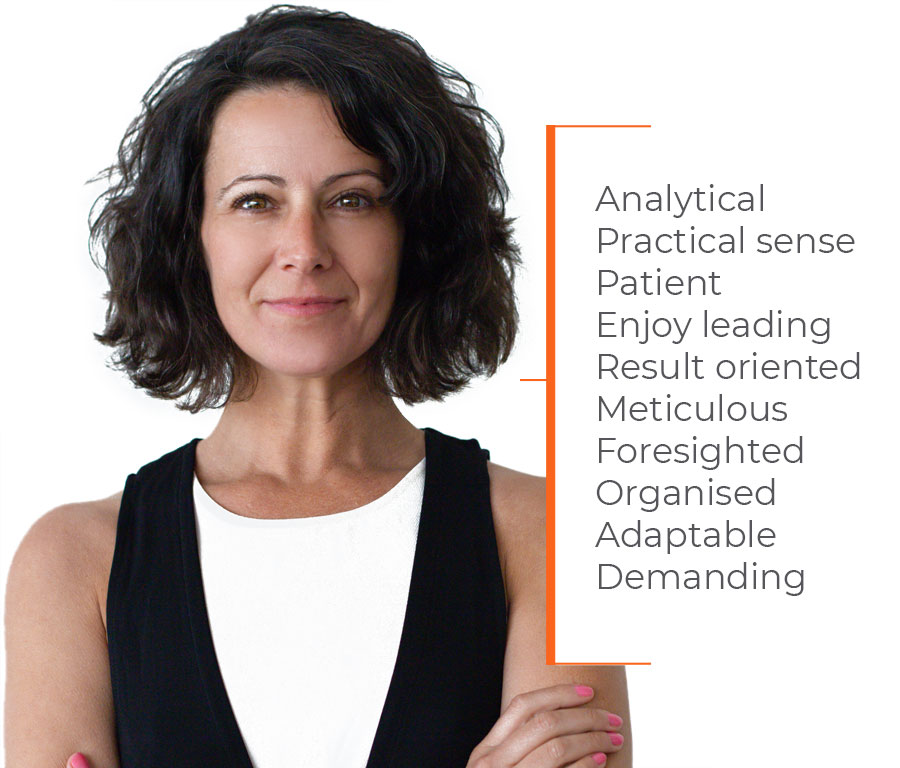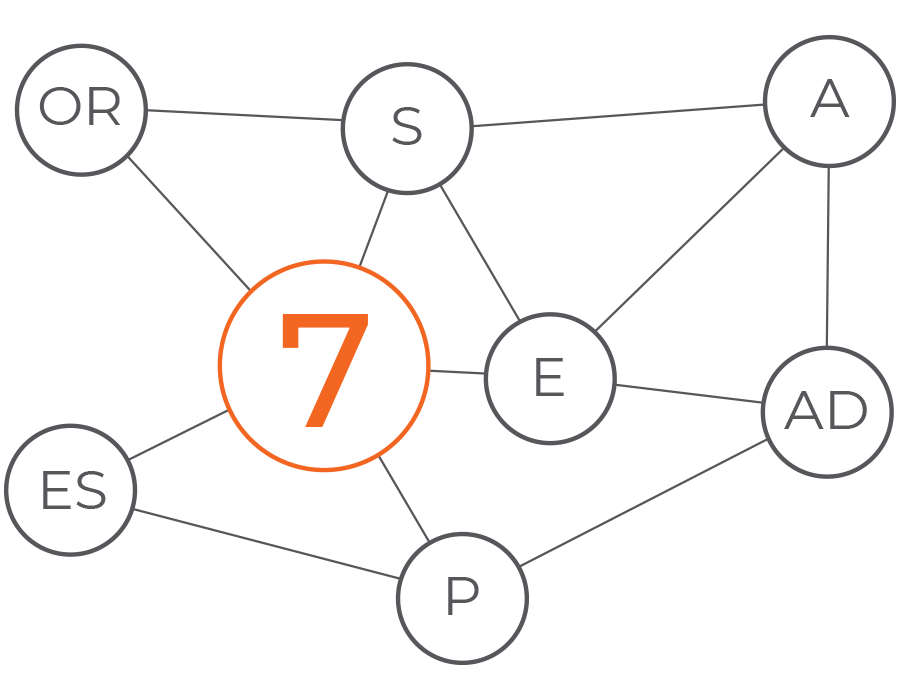 Originality of Thought – Emotional Spontaneity – Assertiveness – Extroversion – Pace – Structure – Adaptability
The Seven Source Traits Measured by MPO Personality
Workplace personality traits and motivational needs
Our product is unique in its capacity to measure the interactions and level of intensity for seven of the most vital aspects of personality within the work context. Result: an accurate description drawn from a bank of 1,771,561 possible personality nuances!
Target the Right Candidates
By defining the personality traits and behavioral needs for the open position, you can target the right candidates.
MPO helps you clearly define your needs so you can make safer bets when hiring. Thanks to our Profiler application, you can refine your selection criteria in just a few clicks!
Measure Staff Wellbeing – Get Proactive!
With our unique diagnostic tool, you can…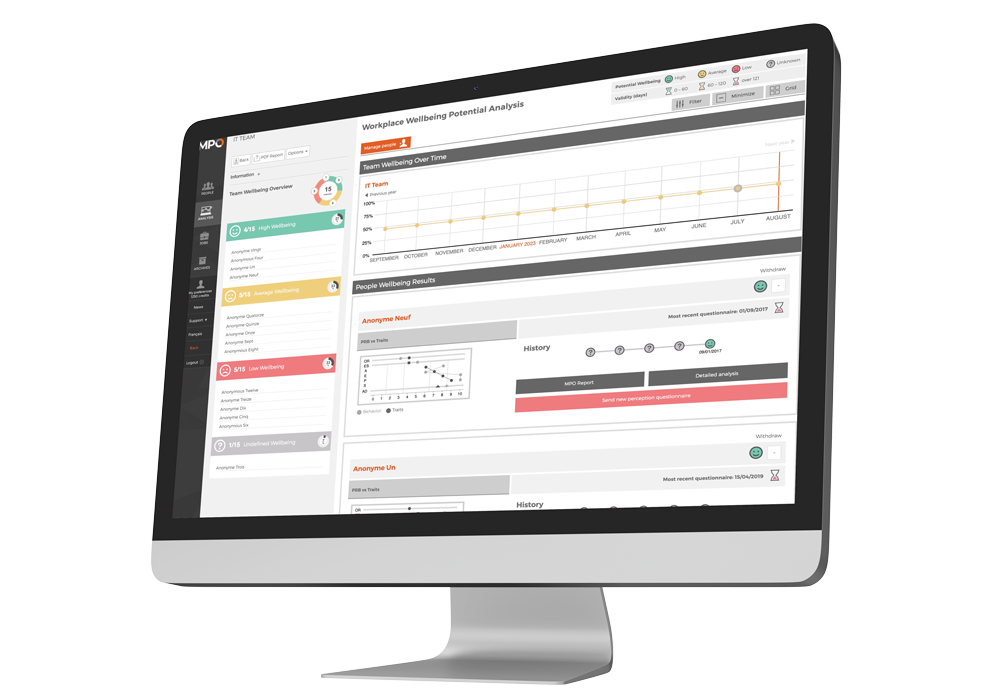 The Workplace Wellbeing Indicator (WBI)
The Wellbeing Indicator (WBI) acts as a real-time dashboard to measure individual and group wellbeing in the workplace.
With all the data at your fingertips, you'll clearly see which employees might be considered "at-risk". Plus, with the WBI you can track wellbeing when there is a shift in roles or duties, when there are important process changes or when any major company-wide upheaval occurs.
The WBI is just one more among the powerful tools in the MPO toolbox – getting you more bang for your buck! Relying on your existing survey data, the WBI gives you a pro-active advantage when it comes to optimizing workplace wellbeing.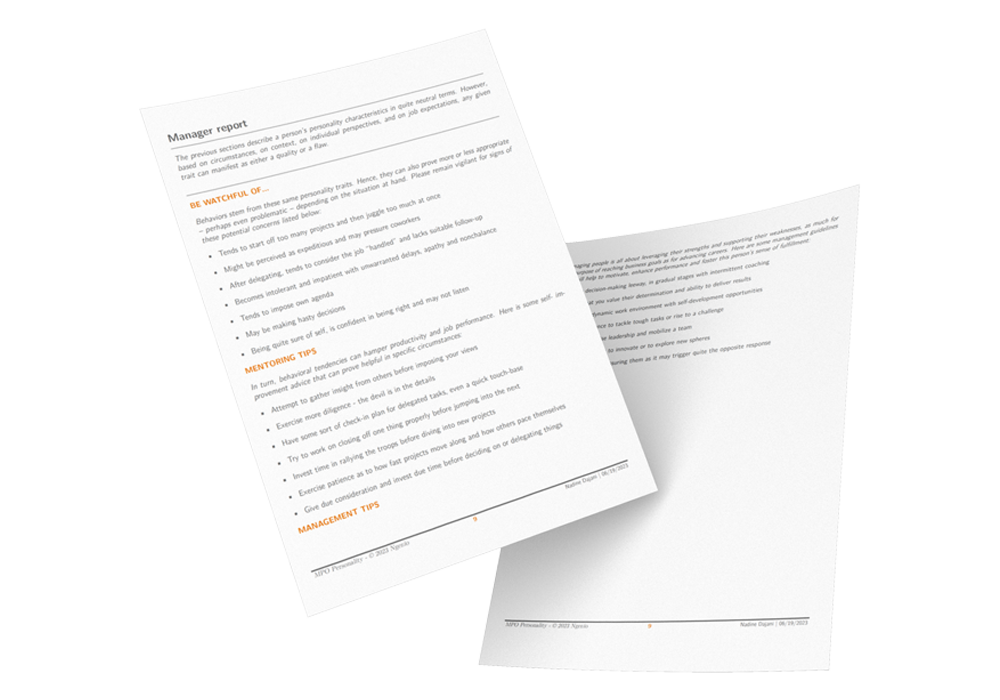 The People Management Report
Our People Management Report is your go-to supervisor resource. Get practical tips and precious management advice. Leverage your team's strengths, pick optimal support methods and, ultimately, help them grow.
This report helps with onboarding, sharper coaching skills, and a better understanding of people in the workplace.
It provides 3 kinds of people-management advice:
monitoring for potential concerns
mentoring and support tips
ways to structure the work
These pro-tips can be used to modify or validate your supervisory methods when someone's job behavior or performance needs special attention.
Discover the full range of MPO solutions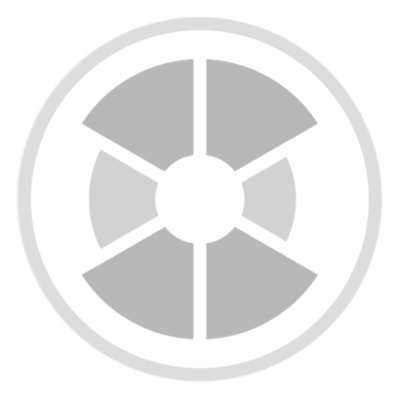 Familiarize yourself with staff talent profiles in order to leverage individual and team potential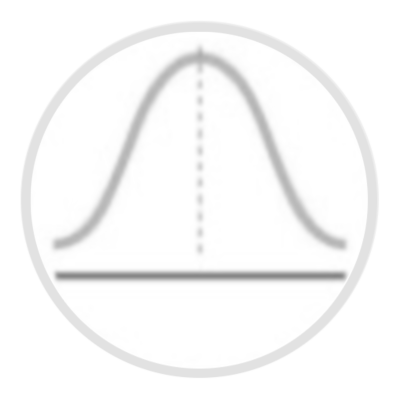 Gain an awareness of learning styles and information processing skills for better job integration